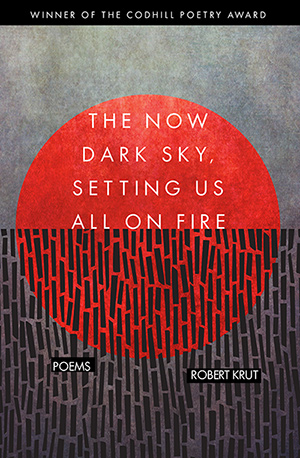 Robert Krut of Los Angeles, California won the 2018 Codhill Poetry Award for his manuscript The Now Dark Sky, Setting Us All on Fire. He received $1,000 plus 25 copies. The author of poetry collections This Is the Ocean (Bona Fide Books, 2013), which received the Melissa Lanitis Gregory Poetry Award, and The Spider Sermons (BlazeVox, 2009), his poetry has appeared widely, including in Gulf Coast, Passages North, Blackbird, The Cimarron Review, and Poetry Vinyl. He teaches writing, literature, and film studies at the University of California, Santa Barbara.
Congratulations as well to our finalists:
Arne Weingart, Chicago, Illinois
Cammy Pedroja, Portland, Oregon
Leona Sevick, Bridgewater, Virginia
And to our semifinalists:
Richard Hedderman, Wauwatosa, Wisconsin
Kevin S. Hardy, Bowling Green, Ohio
Gary Lark, Grants Pass, Oregon
Margot Wizansky, Brookline, Massachusetts
Jane Wayne, St Louis, Missouri
Kobina Wright, Lake Elsinore, California
Jane Ann Fuller, Logan, Ohio
Ace Pilkington, St. George, Utah
Karen Benke, Mill Valley, California
Marion Brown, Bronxville, New York
Polly Buckingham, Medical Lake, Washington
Quarterfinalists:
Margaret Young, Beverly, Massachusetts
Karen Donovan, East Providence, Rhode Island
Renee Nicholson, Morgantown, West Virginia
Lee Varon, Cambridge, Massachusetts
Laurie Blauner, Seattle, Washington
Molly Tamarkin, Durham, North Carolina
Stephen Campiglio, Fiskdale, Massachusetts
Leslie Townsend, Louisville, Kentucky
David James, Linden, Michigan
Rebecca Olander, Florence, Massachusetts
Abby Murray, Puyallup, Washington
Laura Lee Washburn, Pittsburg, Kansas
Mary Gilliland, Ithaca, New York
Michael Pearce, Oakland, California
Dennis Finnell, Greenfield, Massachusetts
Gregory Loselle, Southgate, Michigan
Jonathan Greenhause, Jersey City, New Jersey
Cameron Morse, Blue Springs, Missouri
David Mihalyov, Webster, New York
John N. Miller, Lexington, Virginia
Joan Manheimer, Denver, Colorado
Thanks to all of you who entered the competition. We could not have sponsored the award without your support.
The annual award is given for a full-length (48+ page) poetry manuscript. The next deadline is December 30, 2019. Please consider resubmitting your work this year. All manuscripts are read anonymously and at least twice.
Wishing you much continued success with all of your writing and publishing endeavors.
Cordially,
Pauline Uchmanowicz
Contest Coordinator
David Appelbaum
Founder/Publisher