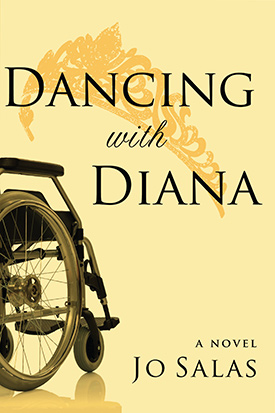 While painting my kitchen a few years ago I listened to CDs of Tina Brown reading her book The Diana Chronicles. Amidst the mostly familiar saga of ill-fated romance, pomp, glory, and rebellion, she recounted the story of Princess Diana's schoolgirl visits to an institution for people with disabilities. There, while her schoolmates hung back in embarrassment, 15-year-old Diana was perfectly at ease. She would dance with the patients in wheelchairs, grasping the arms of the chair and moving backwards with her dancer's grace.
I was struck by this story. It seemed to show that Diana's extraordinary ability to connect with all kinds of people, particularly those dealing with illness or hardship, was present long before she was in the public eye. And I found myself wondering about the people she danced with. What was it like for them? Did any of them remember that moment later when she became the most adored person in the world?
That brief anecdote was the seed of Dancing with Diana. The unnamed adult patients inspired my imaginary Alex, a boy the same age as Diana. Alex has cerebral palsy. He also has guts and a sense of humor, and gains a kind of wisdom as he gets older. With his friend Michele, he endures severe school bullying from children who have no understanding of disability. Michele's tragic fate leads him indirectly to his encounter with Diana.
Having involved myself with a main character who was disabled, I tried to learn about what his life might have been like. I visited the town in the west of England where I pictured him living and asked people there about how disabled children would have been educated in the 1970's and 80's. I listened to long interviews with individuals with cerebral palsy who would have been about Alex's age. And in London I met a young man in a wheelchair who generously told me about his life.
Dancing with Diana is also her story. Diana's life, of course, is highly documented, but I imagined thoughts and memories and aspirations that might have been in her mind on that final day before her death. And I gave her a big, wonderful project that (as far as I know, and the British government isn't telling) is entirely fictional.