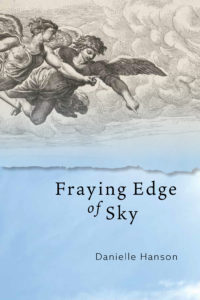 February 16, 2018
Danielle Hanson of Atlanta, Georgia won the 2017 Codhill Poetry Award for her manuscript Fraying Edge of Sky. She received $1,000 plus 25 copies. Author of Ambushing Water (Brick Road Poetry Press, 2017) and 2016 recipient of the Vi Gale Award from Hubbub, she was a finalist in 2017 for the John Ciardi Poetry Prize and the Wick Poetry Prize. Her poems have appeared widely, including in Asheville Poetry Review, The Atlanta Review, Blackbird, The Cortland Review, Iodine Poetry Journal, Poet Lore, Roanoke Review, Rosebud, and Willow Springs. Danielle Hanson is poetry editor for Doubleback Books and has edited Loose Change Magazine and Hayden's Ferry Review. Her work has been nominated for five Pushcart Prizes and a Best of the Net.
Congratulations as well to our finalists:
Mary Logue, Golden Valley, Minnesota   
Anatoly Molotkov, Portland, Oregon  
Sharon White, Philadelphia, Pennsylvania
Patty Crane, Dalton, Massachusetts
And to our semifinalists:
Jacqueline Winter Thomas, Emerson, New Jersey
Audrey Bohanan, Berwick, Maine
Heidi Seaborn, Seattle, Washington
Jim Nawrocki, San Francisco, California
Rod Farmer, Farmington, Maine
David Mihalyov, Webster, New York  
Ray Hadley, South Lake Tahoe, California
Mark McKain, Altamonte Springs, Florida
Charles Kell, Charlestown, Rhode Island
Alice Rogoff, San Francisco, California
Quarterfinalists:
Russell Evatt, San Antonio, Texas
D.G. Geis, Lakehills, Texas
Douglas Jones, Gunnison, Colorado
Steve Lautermilch, Kill Devil Hills, North Carolina
Karen Pittelman, Brooklyn, New York
Robert Manaster, Champaign, Illinois
Mary Fister, Florence, Massachusetts
Rich Murphy, Marblehead, Massachusetts
Jane Wayne, St. Louis, Missouri
Jed Myers, Seattle, Washington
Greg McBride, Silver Spring, Maryland
John Sibley Williams, Milwaukie, Oregon
---
Thanks to all of you who entered the competition. We could not have sponsored the award without your support.
The annual award is given for a full-length (48+ page) poetry manuscript. The next deadline is December 30, 2018. Please consider resubmitting your work this year. All manuscripts are read anonymously and at least twice. For complete details, please visit our website, www.codhill.com.
Wishing you much continued success with all of your writing and publishing endeavors.
Cordially,
Pauline Uchmanowicz
Contest Coordinator
David Appelbaum
Editor/Publisher